Last week I was interviewed by Chris Titley from Morgans Financial Limited in their long-running podcast, 'Morgans Conversations'.
The interview was ostensibly about our tech startup, LivePreso, our second capital raise and growth experience. However, it has prompted significant interest from practitioners in the financial services sector. Unsurprising as the Morgans audience is, in large part, financial services; but gratifying that there has been such an immediate level of interest in the key progressive themes of the conversation.
In conversation with Chris Titley, I tried to bring several of my answers back to this sector, our work in it, our observations and insights. I thought I'd go a step further and write this post to get more into that detail which we've been asked for; in particular automation of complex processes (or just labour-intensive ones!), interactivity in content, and making client experiences better.
If you're interested in knowing more, please connect, get in contact here. You can listen to the 'Morgans Conversations' podcast here.


Now, on with the post!
1. How digital is your digital?
The first question everyone asks: what does LivePreso automate, what do we mean by digitisation? Financial services organisations have major business challenges in compliance, productivity, and margin; they are investigating and evaluating solutions all the time.
Everyone is talking about how Covid has forced a mass migration to digital, but in so many industries—especially financial services—digital so often just means displaying skeuomorphs of traditional old printed documents on the screen. The bar has been set low.
For example, the wealth industry laments the typical 100-page printed statement of advice, a tome of compliance that engages no one and actually discourages understanding by the very clients it is supposed to edify. Yet almost every 'digital SOA' just automates creating a PDF of the same old document.
Philosophy is everything
Our financial services customers tell us they want to move the needle; they want to make the change. But changing generations-old behaviour and document standards is hard. And they don't want to lose the strength of the relationships they've built with their clients to 'robots'.
We believe in the importance of the adviser-to-client, business-banker-to-business-owner, seller-to-customer engagement. We're not replacing the sellers, advisers, consultants or account managers with automation or bots; we're enabling them to literally engage with clients more efficiently and more powerfully.
But, more importantly, seven years in we're the only platform serious about changing the format. Everything else—whatever machine learning, artificial intelligence, or technical creds they offer—is invariably disconnected from critical industry systems like Xplan, and leaves an adviser with a dull, static PDF or Word doc. It might be a different process, but it's the same output and the same outcome.
The magic in the machine
Financial advisers, brokers, business bankers, accountants, sellers and account managers alike are asking for automation; no one wants to spend half of every week doing repetitive admin or copying-and-pasting. But if they're going to bite the bullet and make that change, they want more than just a quicker version of what they had before. The change needs to be worth it, for themselves and their clients.
LivePreso's automation for virtual advice genuinely moves the needle for them. Not to put too fine a point on it, the magic of LivePreso is in its ability to integrate with complex systems and get customer data out to speed the creation of docs. But, critically, it underpins game-changers like guided advice, interactive content that engages and educates, and modelling tools that capture data during a meeting (virtual or otherwise) and store it back into business systems.
We cut our teeth integrating with Salesforce, Dynamics and Business Intelligence tools like Tableau; this was expected. Integration with financial services systems, however, is often seen as something little short of magic by our customers. Having investors, board members, sector partners, and key staff with deep industry experience has let us develop powerful and meaningful solutions for financial services customers.
Client data automatically integrated into a pension (superannuation) modelling page for client reviews.
2. Better customer experiences in financial services (and more of them)
Second, financial services organisations of all sizes tell us they have major customer experience challenges like consistency, capability, understanding and engagement to name a few.
LivePreso's interactivity for virtual advice can move mountains for them. They can model high-value use cases with integrated client data, making traditional static content interactive and developing guided narratives for consultants and advisers that support client understanding and faster pathways to action.
Even better, the time they save through automation means they have more time to see more clients more often. We're hearing that the typical once-a-year, 2-hour marathon advice session is transforming into 4 or 5 shorter, more focused, more beneficial (and virtual) check-ins. More time is being invested in the relationship than the annual meeting.
An interaction for every transaction
Think about every touchpoint you have with your customers or clients. Now, rethink them imagining that you're not constrained by Word, PDFs, PowerPoint or printed material. Especially now where everything is virtual, imagine actually getting them involved.
Here are a few specific use cases to illustrate what's possible:
Corporate FX
We're working with the Corporate FX division of one of the large business banks on 3 different use cases, all of which will significantly improve productivity, customer experience and, therefore, results:
Interactive modelling during the sales process to show a customer exactly what their ROI could be—not a generalisation.
Automated, interactive statements of advice that are now required for business FX.
Automated, interactive QBRs for existing customers.
Customer reporting
Following on from that last point, business reporting back to customers is pretty poor across the board—in super, financial advice, business banking and sales.
We've just started working with an investment house with a suite of funds that take 3 weeks of every month to update the previous month's reporting to take to their customers. And what they produce is static, boring content created in a rush. LivePreso is not only automating that process so everything is updated on day 1, but it will produce interactive content that can bring the story—and customer engagement—to life.
Compliance quizzes
This is a fascinating use of LivePreso's interactive capabilities. Sewn into compliance documents like SOAs are interactive quizzes that encourage clients to actually understand the advice they're being given. If they answer incorrectly, they are presented with videos to help them learn there and then. Simultaneously, every second they spend completing the quizzes (or looking at any content, for that matter) is tracked and stored for compliance purposes. It's in situ gamification and education while advising, making sure they get it!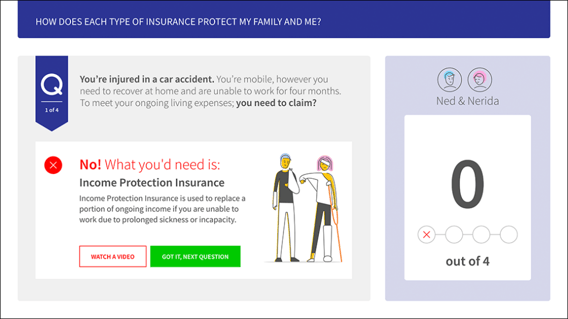 If you're interested in knowing more, please connect, get in contact here.
You can listen to the 'Morgans Conversations' podcast here.
---
Morgans Financial Limited
Morgans is Australia's largest national full-service stockbroking and wealth management firm, with more than 300,000 clients, 500 authorised representatives and 850 staff, operating from offices in all states and territories.

Related post:
LivePreso gears up to harness accelerated adoption of automated digital content in the sales process
Related article (external):
SalesPreso rebrands as LivePreso following $5 million raise